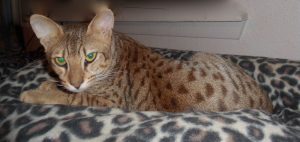 What To Know
There are questions prior to reserving a kitten each potential pet parent should ask from the breeder, shelter, rescue of whoever is offering the kitten. These questions will answer how to prepare, care for the future Pet child.
What to ask
Pre-Adoption health care – Veterinary health report with type/date of vaccination, physical examination, disease.
If Kitten or parents are DNA tested are there any predisposition health risks noted?
Parents' pedigree or Kitten pedigree (optional question)
If purebred is the Blue Slip for registration Included.  There's no reason for not including or extra charges. The cost of registering a entire litters is $13. Blue provides evidence of purebred. 
Pictures of Parents (optional question)
Food and frequency of feeding
Type of Litter Recommended
Provides pre- and post-adoption guidance and mentoring.
Optional Requests prepare for extra cost.
Micro chipping ($50 up)
FIV or Leukemia testing
DNA testing ($130-200)
A pet parent might be interested in other amenities which will cost additional. Micro Chip has increased significantly in cost and most breeders no longer include this in the kitten package. Maybe DNA testing with emphasize on predisposition genetic risk. If both parents are tested, there is probably no-good reason to spend approximately $200 more on this test. Merely ask the breeder if the parents are tested If tested ask for the Predisposition and Diversity chart. What's more useful than DNA testing to the future pet parent is different testing, disease tests like FIV, and Leukemia. Although that seems over concerned.
This is why the PREVENTATIVE care prior to adoption completion is more important than DNA testing of the kitty. The breeder should always expect, request the veterinarian thorough examine the kittens inclusive of listening to the lungs, heart, stomach, and other body functions, likewise the Pet parent too.
Rather ask a question of diversity would better to ask for copy of the pedigree. The ancestors of the cat will answer that question (if inbred) without a rude worded question.
I believe those who offer kittens for adoption do their best to make certain the kitten is healthy. The future is an unknown commodity depending on exposure. It really is audacious to think breeder, rescue, shelter, foster home is responsible for the future of health of cat. After matters of adoption an adopter can't prevent unintentionally exposure of diseases, parasites, protozoan. Examples is giardiasis this protozoan is found in water, and others like FIV, Leukemia, campylobacter, Crypto, trichomoniasis, panleukopenia. There is no way of knowing if a cat will develop a tumor or cancer or liver failure.
Best to examine the kitten(s) at pick up perhaps consider a veterinarian inspection within a couple weeks.