Born September 12, 2022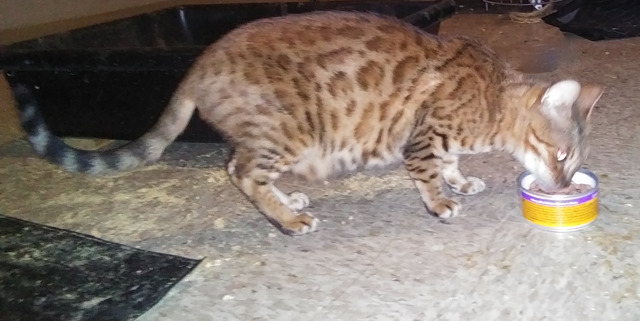 Adding the Bengal breed to our cattery was never intended.  When the opportunity arose, it seems more like saving a wonderful breeding pair.  Leo is a big cat trained on a leash seems to like walks, like all the Bengal, he is very vocal.  Kiki is a very cautious of her environment and the territory does not prefer changes.  When her babies arrived, I expected a challenge of socializing and handling babies.  The unexpected happened a personality change in Kiki as she seemed to want and expect help with the babies though she stay a bit Please don't hold me.  She's a wonderful mother Cat.  
The pet pick-up fee is $1000 with $200 of the 1000 required as a deposit to reserve a particular kitten the remaining due at pick up.   Shipping costs about $500, regardless of airline or destination in the
USA. We bill the actual cost of the shipment, and full payment is cat/shipping is due prior to the day of shipping.  In general, the birth notice is first published on our Facebook page.
Our kitten package includes health records, TICA blue slip registration, wet and dry food, toys with other goodies. 
The kittens are released into new homes at age 12 weeks because they are provided with two vaccinations (8, 12 Weeks age), two veterinary medical checks.    They are vaccinated with 4-way (distemper) and leukemia, around 7-8 weeks old 4 weeks later the 2nd vaccination (booster) is administrated.  Our Veterinarians provides thorough health checks examine ear, nose, oral cavity, stomach, rectum, lungs and health. 
Our Adoption Policy
–  The adopter agrees to provide a non-declaw inside only  home.   If the cat needs a new home, the adopted agrees re-home with the same quality or a better home with the same status of no-declaw indoor only home.  Adopt is welcome to contact Kezkatz for assistance for rehoming.  We are available for advice and help for a cat's life.